ENESGY FOR PORTS
Geospatial Solutions for Port Authorities and Marine Terminals
Enterprise Approach
Overcome silos of information and gain new efficiencies. Attain a common operating picture of your facility. Access through best practice enterprise security measures.
Knowledge Security
Capture the precious knowledge of your retiring workforce. Put modern knowledge management tools in the hands of a new generation. Provide critical information in a secure environment. Build resiliency, prepare for emergencies.
Decision Support
Leverage the data already in your facility and allow your staff to drive defensible, transparent decision making. Oversee operations via a map-driven dashboard. Automate and disseminate repetitive data tasks, making it easy for anyone to access the information they need.
Robust Geospatial Tools
Enesgy for Ports includes a suite of tools designed specifically to help manage port and marine terminal assets, security, documents, real estate, environmental, engineering, and maintenance, all through through organization and presentation of data spatially and existing systems integration to accelerate ROI.
Modern Architecture
Built on a best-in-class software and database foundation, Enesgy for Ports is designed using a standards-based and easily supportable architecture. Configuration instead of customization reduces cost and promotes organization independence.
Deployment Options
Deployable behind your firewall or in your own private cloud where you capitalize and own the software, or hosted in the cloud through a subscription. Either way you own and have permanent access to your data.
Maps and Apps Anywhere, Anytime, and on Any Device
Enesgy for Ports uses an HTML5 JavaScript-based responsive software design so you can easily use your tools on a computer, tablet, or mobile device. Access Enesgy for Ports from the office or the field to perform real-time data updates and analyses, present plans to stakeholders and commissioners, or respond to an emergency even if you are out of the office.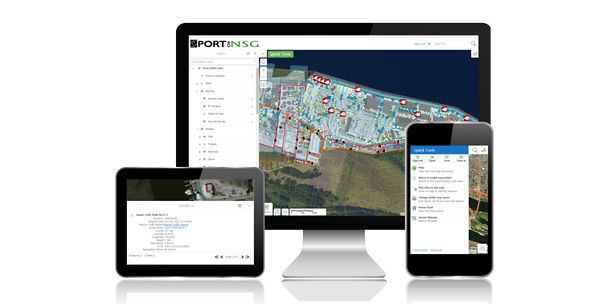 Deployment Options
Enesgy for Ports is a bundled suite of Enesgy software, modules, and data models. Enesgy for Ports can be deployed on-premise, in a private cloud, or in a hosted cloud.
Learn More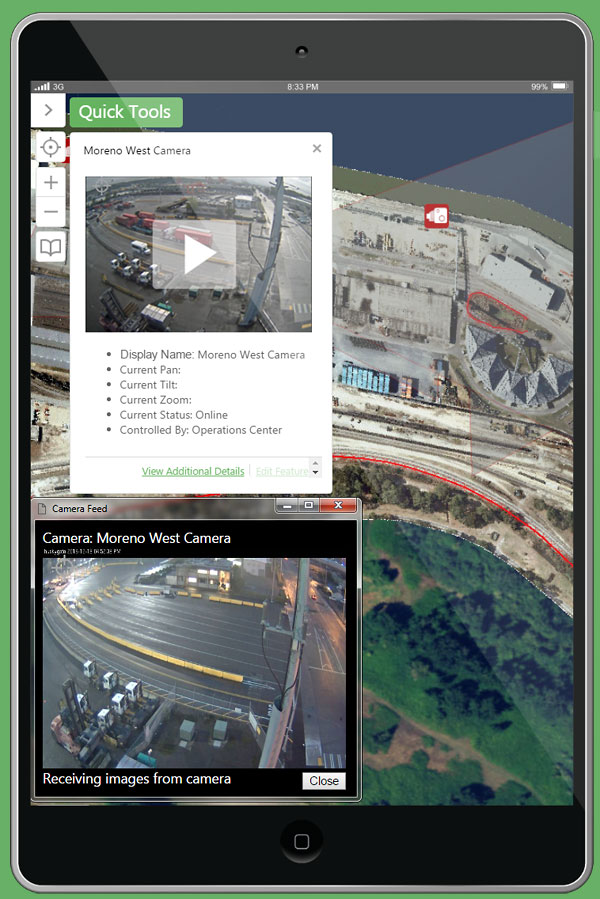 Integration
One of the main strengths of Enesgy for Ports is its proven ability to integrate with a variety of other information systems. Integration with Enesgy for Ports can spatially enhance those systems or help correlate information within those systems using common locations. Enesgy for Ports has been integrated with systems for:
vessel and vehicle tracking
lease management
permit management
command and control
mass notification
closed circuit TV
access control
weather
traffic monitoring
document management
facilities management.
Contact us to learn how Enesgy for Ports can integrate with and enhance your systems.
NSGIS built Enesgy based on what Ports tell us they need. NSGIS is an expert in geospatial system integration at Ports, with decades of GIS and consulting experience. Enesgy is an off-the-shelf solution for ports of all sizes, large or small, both inside the United States and globally.
"Enesgy for Ports is the only enterprise geospatial system specifically designed for ports that and has been successfully deployed at multiple ports across the United States."
Enesgy for Ports was formerly known as the NSG Port Solution and from a licensing perspective is identical to it.